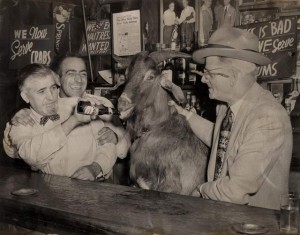 I've always been drawn to old man bars with dark wood, black beer, and ideally a fireplace.
 On occasion, I wonder what it is that draws me in, and I've often assumed that I simply feel like an old man much of the time. Even as a teenager. But the truth is more likely that I know I'm missing something, and a part of me believes the old men have it. Maybe it's wisdom or insight, but I suspect it's both simpler and more complicated than that.
 I've had a number of men in my life who have taught me things, but most of my education was done by women: emotionally, spiritually, and intellectually. I've learned kindness, compassion, and empathy, along with enough gratitude to prime a horse. I learned to read and write, and the most nuanced and interesting cultural critiques I know have always come from brilliant women. From my mother, to my high school teachers, to Naomi Klein, much of what I know I learned from women.
The men in my life have been more complicated. From a stern yet loving grandfather, to a wild minister and oft traveling father, I've had men about too. But along with the kind ones came the men who shook my hand so hard my knuckles nearly burst. I've had the boys who threw things and shouted insults as I passed by, and the old men who leered at me, seeing a sweetness that was obviously exploitable. I've had the boys who fell in love with me only to follow too closely and not listen to no, right alongside the boys who've threatened and harassed me for their own reasons.
For most of my life, men have been scary, unstable, absent, and maybe, on a good day, simply confusing. So, when I've had the choice, I've chosen the company of women. From college friends to church and work, I've preferred the safety and intellect of women, who at least I felt like I could understand. Even working with teenagers for years, it was always easier to sit with the girls and talk than it was to handle the ceaseless energy of the boys who needed me more than I knew.
But being comfortable in my feminine side doesn't let me off the hook for the rest of it. The parts I've avoided–and often shoved away into a dark corner out of fear or concern–haven't left me. Sometimes it was outright rejection, and sometimes it was pure ego, but those efforts were never going to work. I am not like those men, I proclaim. I would never do that or even think it. I understand, I care, and I can listen.
 So then I find myself wondering if old men might be less frightening than the young ones, or even the ones now my age, who seem just as lost as anyone. The bars offer a social setting where part of me hopes I might learn something. I might learn not to turn away, and I might learn to let go of the stories I've told myself about men.
But if it's not wisdom, then what is it? If it's not insight, then what can I gain? And if it's not simply knowledge, then what's the point? But I drink with them and listen to them laugh, and I see something out of the corner of my eye. I stop trying to process everything, and for moments it's there all on its own. They are not teachers I've ever had before. They are not even trying to educate me, in fact, they'd be perfectly content if I wasn't there at all.
It occurs to me, when I stay long enough, that these men are exactly what they are. They are angry or sad. They are drunk or abstaining, and they are not hiding. In fact, the bar might be the only place they don't hide, but for a moment they are simply themselves, and I see men. I see broken and reborn men. I see strong men who are afraid, and I see men who have stopped trying at all.
Maybe I long to be them, and maybe I hope to avoid the same fate, but I'm drawn in all the same, wondering how to embrace something I don't understand. Hoping to see a glimmer of something that makes me also feel like a man. Hoping that between the dark beers and the lined faces, I'll find my own strength.